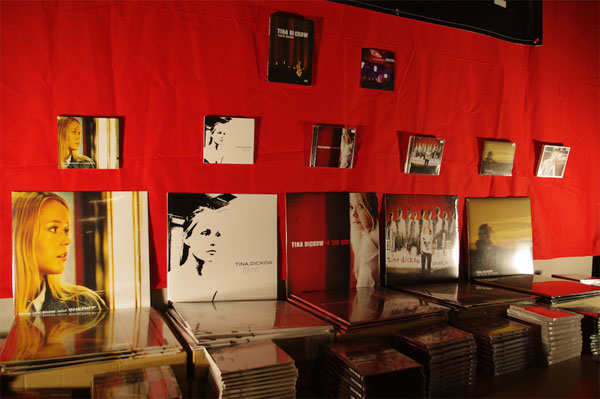 (image from official website, merchandise and music, http://tinadickow.dk)
[de]Am gestrigen Abend war es so weit. Ich konnte meine Eintrittskarte in über 2 Stunden gute Musik tauschen. Amüsant fand ich, dass ich den Altersdurchschnitt zu senken schien, die Stimmung allerdings nicht minder gut machte. Zunächst Stellte Tina Helgi Jonsson vor, als isländischen Künstler, den sie sehr und sich selbst glücklich schätzt, ihn als Bestandteil ihrer Tourcrew zu haben.
Sowohl Tina, mit bürgerlichem Namen Dickow, als auch Helgi hatten guten Kontakt zum Publikum und warfen immer wieder kleine Geschichten oder kurze Erklärungen zu Songs ein.
Ganz besonders habe ich mich über folgende Songs gefreut:
[/de]
[en]Yesterday evening the time had come to trade my ticket for over 2 hours of great music. It was a little amusing, that I obviously decreased the average age, but the mood of the audience wasn't worse because of that. First Tina introduced Helgi Jonsson, an icelandic artist who she likes to perform with a lot.
Tina, by last name actually Dickow and Helgi were in good touch with the audience, throwing in small anecdotes and introductions in between the songs.
Especially I enjoyed the following songs, which are among my favourite:
[/en]
[da]I går var tiden så kommet. Jeg kunne bytte mit billet til over to timers spændende musik. Det var lidt sjov at jeg tydligvist var en af de yngste på stedet, som ikke gjorde nogen forskel på stemningen. Først forestillede Tina Helgi Jonsson, en islandsk kunstner som varmede op for hende og som hun er meget glad for.
Tina, som foran international publikum kalder sig Dico og Helgi havde en meget god tråd til publikummet og kastede små historier ind her og der, for at introducere sange.
Mine favoritter fra den aften findes lige nedenunder:
[/da]
I met a friend in a bar last night
A girl from a far away past
We counted and worked out that it'd been more than seven years
Since we saw each other last

She looked so much older, I have to say
She used to dress so lively and smart
Now her colours they were faded and her hair was a mess
Her expression was tired and hard
Nobody feels the weight of your mission
Nobody can set you free
Nobody knows the way to your fortune
Nobody and least of all…
Me
All these years feeling small and misplaced
The only lonely man on Noah's Arc
All these years dealing with radio active waste
Has made you glow in the dark
Don't you know you glow in the dark